Successful Event Planning from Calgary, Banff, Vancouver, the Yukon and the Canadian Rockies
Ten years of Corporate Event Management, Team Building, Retreats, Incentives and Destination Management experience in such places as Calgary, Banff, Jasper, Kananaskis, Kelowna, Vancouver, Victoria, the Yukon and Western Canada have given Encore Events the expertise required to host your next successful public relations event, meeting, conference, or incentive program.
From the creation of an incentive program which no one has experienced before or an exclusive Board meeting for ten, Encore Events' attention to detail has ensured a top spot in the Canadian Event Planning Industry. Each event is managed one step at time, from reliable suppliers, to speakers, researching of venues (exclusive or unique) to conception of ideas including hiring entertainment, catering, speakers, team building or corporate training companies. We've experienced them so that you can be secure in your decision to utilize their services.
We create programs that exceed your expectations. We give you back time by relieving you of the details of the planning, research and all of the details. In the end, you make all of the final decisions and you look like the star.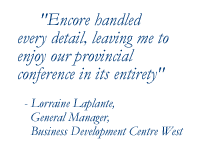 CPW